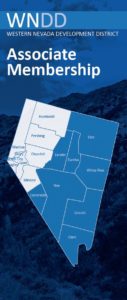 ABOUT WESTERN NEVADA DEVELOPMENT DISTRICT
WNDD is an Economic Development District certified by the U. S. Economic Development Administration. It is a Nevada domestic nonprofit corporation, 501(c)(4) and primarily funded through the U. S. Department of Commerce as well as County and local government membership dues. The Board of Directors is comprised of a majority of local elected officials, staff and private sector representatives, who reflect various segments of the region: i.e., business and industry, finance, health, education, senior citizens, youth, and the unemployed/underemployed. It provides for a forum to discuss and address common concerns related to economic development and opportunities of a regional nature.
It is a Census Data Center Affiliate and works closely with the University of Nevada, Reno and most recently University of Nevada, Las Vegas.
A sample of projects completed by WNDD in partnership with member agencies and their stakeholders include:
Carson City Airport Industrial Park infrastructure
Carson City, Douglas, Washoe, El Dorado (CA) and Placer (CA) Lake Tahoe Basin Prosperity Plan
Douglas County Meridian Industrial Park infrastructure
Economic Feasibility Study for reconstruction of
V&T Railroad (Carson City, Douglas, Lyon and Storey Counties)
Fallon, New River Business Park, infrastructure
Fernley Wastewater Treatment Facility expansion
Lovelock Wastewater Treatment facility
Lyon County, Santa Maria trail, Dayton/Lyon County, Wilson Canyon trail improvements
Mineral County, infrastructure for industrial park
Pershing County Industrial Park, infrastructure
Silver Springs Airport, infrastructure
Smith Valley (Lyon County), land acquisition for park
Storey County, park project, Lockwood
Yerington Waterline extension
Annual Nevada Economic Development Conference
Revolving Loan Fund Program for Small Businesses
Benefits:
 Access to a vast network of community leaders throughout the region.
Interface with rural and urban communities towards economic development.
Educational and professional development programs.
Instant access to Western Nevada Development District membership directory and resource guide.
Participate in opportunities to develop regional collaboration between public and private sectors.
Prominent display of company and/or agency on WNDD website.
Nevada State Economic Development Conference exhibit hall and advertising discounts. Associate members are eligible to participate as speakers.
Qualifications:
Anyone interested in the economic vitality of the community, region and State of Nevada.
Become an Associate Member!
Ways to Apply
Web
Complete the application below today!
Email
Download pdf below.
Complete and email to: SGonzales@WNDD.org
Mail
Download pdf below. Complete and mail to:
Western Nevada Development District
704 W Nye Lane, Suite 201
Carson City, NV 89703
Phone
Give us a call at 775.883.7333 x2000